Are you planning a trip to Chiang Mai?
---
So let me help you find the best experiences in and around Chiang Mai.
My name is Kristian Ole Rørbye and I have lived in the city since 2009. Write your email and I will send you a list of the best attractions
100% free and without obligation. Your mail is safe with me.
Finally! Uber has let us wait long, there are many who would argue and I give them absolutely right.
Having been in Bangkok long chose Uber finally to launch their service in Chiang Mai and it has been well taken care of.
It was in early November that you could begin to use Uber here and I even tried the service for the first time last week.
Here was I from the office located directly at the super highway and into the middle of town, to Pantip Plaza at Night Bazaar.
Regular price for this trip in a Tuk Tuk or taxi will be around 150-200 baht and it will take min. 30 minutes before either tuk tuk or taxi was here at the office.
Here it cost me 1.31 ฿ trip there and 8.59 ฿ back to the office.
Gruden to it did not cost more (divide by 5 to get in kroner) was that there was a discount code you could use and save 50 ฿. I do not know if it still works, but it was: UberCM550
Get first trip free using my invitation link here: https://www.uber.com/invite/kktkfm1uue
billigere bliver det vidst ikke og min næste tur bliver også gratis hvis du benytter linket, så det er ren win-win 😉
See map of the tour, prices, time here:
The walk in there: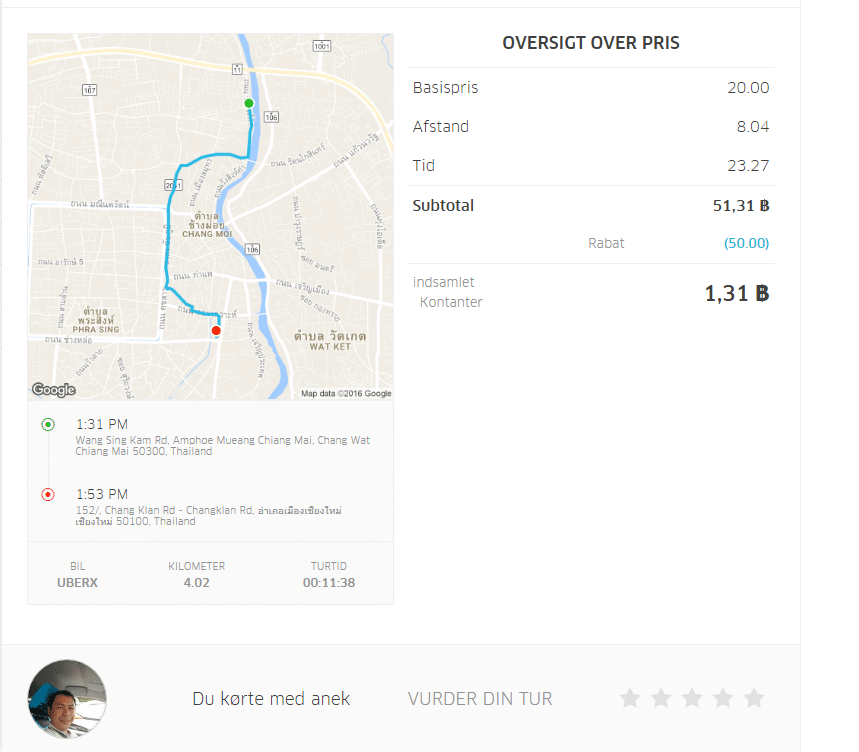 ,
The return trip: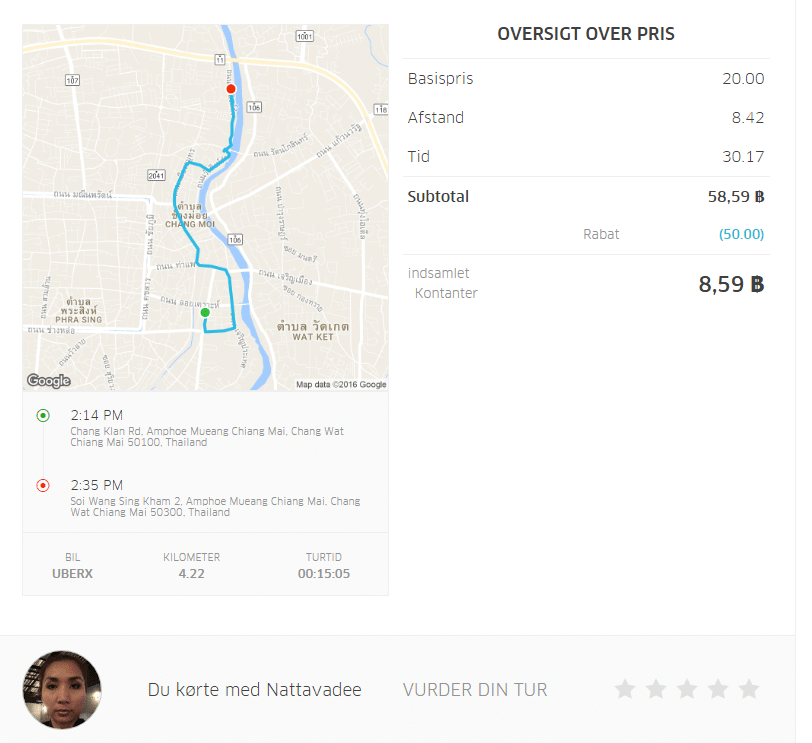 There is also an alternative to Uber that I've used a lot and it's called Grab Taxi.
So what are you waiting for? Download About Appen now and get out and experience the Chiang Mai with a driver at incredibly low prices!